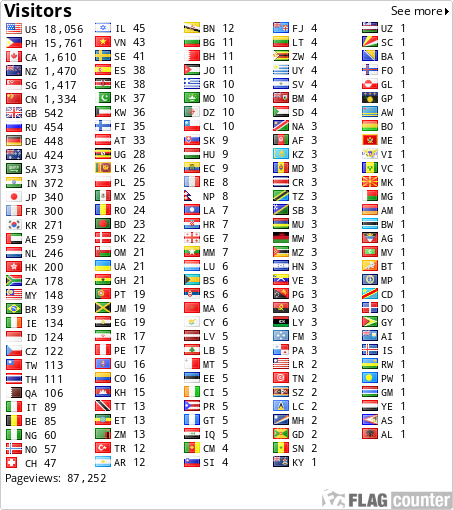 As of writing, From Worry To Glory's visitors have come from 132 countries.
The top 10 countries are as follows:
PH – Philippines
US – United States
CA – Canada
NZ – New Zealand
SA – Saudi Arabia
GB – United Kingdom
AU – Australia
RU – Russia
SG – Singapore
AE – United Arab Emirates
Highest Number of Visitors
On 26 October 2011, From Worry To Glory received 453 visits, 263 of them were new visitors.
Newest Country
The newest flag to be added is Marshall Island (MH)
See what else our blog has achieved in four years.
CLICK the links below:
Four Years of From Worry To Glory
Top 10 Posts – Four Years of From Worry To Glory
---